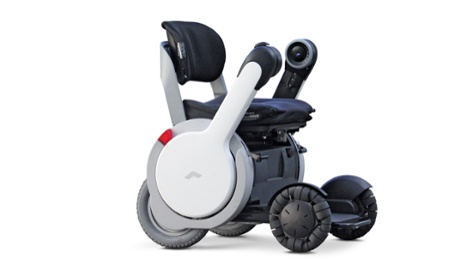 16th October 2014
From the 'omniwheels' of the Whill to off-road caterpillar tracks, we look at the latest innovations in personal mobility vehicles
Looking like what you might get if Apple turned its sleek, minimalist hand to wheelchair design, the Whill is the product of a new startup company formed by a group of former Nissan and Toyota designers and engineers, working in Tokyo and San Francisco. Its major innovation is the incorporation of a pair of "omniwheels" at the front, which consist of normal wheels surrounded by 24 separate tyres that can rotate perpendicularly to the direction of travel. They give the chair an incredibly tight turning radius for indoor use (71cm to be precise), while four-wheel drive allows the chair to travel with ease across rough terrain, from snow and grass to sand and gravel.

It is controlled by a unique mouse-like device on the arm, while the level of acceleration and steering responsiveness can be adjusted on an accompanying smartphone app. In sum, it has all the futuristic styling and precision controls that Professor X could ever dream of.



You may also like...






11th Jul 2016
No silence please – Call to ...





5th Jul 2016
We fell in love': relationship...





3rd Jul 2016
Disability rights around the w...





1st Jul 2016
Mexico City from a wheelchair:...





30th Jun 2016
The disability benefit cuts yo...





18th Jan 2016
As learning disability institu...





15th Jan 2016
Child protection cases have ro...





15th Jan 2016
Southampton Council considers ...





14th Jan 2016
Hidden cameras, wills and cutt...





12th Jan 2016
The young mothers trapped in a...





11th Jan 2016
Social work in 2016 must be se...





10th Jan 2016
Bionic eye helps woman see for...