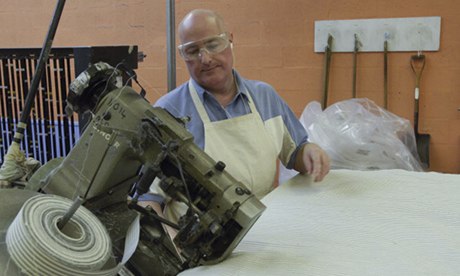 7th November 2013
Buyers found for car parts and CCTV businesses but unions warn that shutdown is 'destroying people's lives'
Eleventh-hour deals are being struck to save more than 350 disabled workers' jobs as the last of the government's Remploy factories close on Thursday after a bitter six-year battle to save them.

All sides are confident that Remploy's car component and CCTV monitoring businesses will be sold as the shutters come down on factories in Blackburn, Sheffield and Neath, which have failed to find a buyer.

All public subsidies for Remploy's factories cease at midnight on Thursday, following a decision by ministers in March last year to switch state support to schemes helping disabled people into mainstream employment.

A government-commissioned report in 2011 found that each job in a Remploy factory was being subsidised at an average rate of £25,000 a year. It estimated that a third more disabled people could be supported into work if the funding was reallocated.

However, fewer than one in three of the 1,800 Remploy workers already made redundant is known to be back in employment despite an £8m fund to assist them.

Jerry Nelson, national officer for Remploy at the GMB trade union, said the factory closures were "destroying people's lives" because their jobs represented not only work, but also social contact and support.

Remploy was set up after the second world war to provide jobs for disabled war veterans and miners. The first factory opened in 1946 in Bridgend, south Wales, making violins. At the organisation's peak in the late 1980s, more than 10,000 people were employed at 94 sites across the UK.

***
Find out more by clicking the website link.



You may also like...






11th Jul 2016
No silence please – Call to ...





5th Jul 2016
We fell in love': relationship...





3rd Jul 2016
Disability rights around the w...





1st Jul 2016
Mexico City from a wheelchair:...





30th Jun 2016
The disability benefit cuts yo...





18th Jan 2016
As learning disability institu...





15th Jan 2016
Child protection cases have ro...





15th Jan 2016
Southampton Council considers ...





14th Jan 2016
Hidden cameras, wills and cutt...





12th Jan 2016
The young mothers trapped in a...





11th Jan 2016
Social work in 2016 must be se...





10th Jan 2016
Bionic eye helps woman see for...