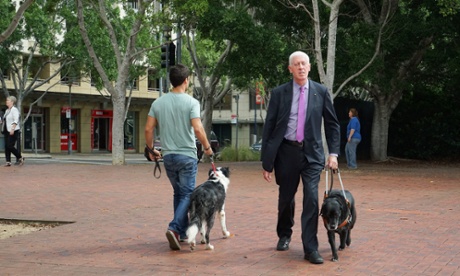 16th January 2015
In the final days of 2014, the meagre funding granted to disability advocacy groups was cut. It ended an annus horribilis for the sector
When there's cricket on the radio, the sun is shining, and boats and beaches beckon, it's easy to forget how tough last year was for Australians with disabilities. The final blow from the government, in typical Christmas Grinch style, was the defunding of the peak representative bodies of people with disabilities.

2014 was our annus horribilis.

In May, the Daily Telegraph painted people with disabilities as "shirkers" and "slackers", and this was reinforced by the "lifter" and "leaner" mentality of federal government commentary. The story was about how some us are "existing" on the disability support pension of less than $20,000 a year.

We lost the position of disability discrimination commissioner at the Australian Human Rights Commission following the politically motivated appointment of a "freedom commissioner" early in the year. In contrast, both the Aboriginal and Torres Strait Islander commissioner and the sex discrimination commissioner were re­appointed – very appropriate appointments, but demonstrating the relative disregard for the disability sector.

Our voice on the ABC, through the disability portal Rampup, lost its funding.

The Medicare co-­payment, in whatever form it may finally take, will hurt people with disability more because more of us need to attend the doctor more often.

While there was a welfare plan – to move many of us off welfare – there was no jobs plan for people with disabilities, in contrast to the much­-needed initiatives to ensure that older Australians are employed.

The Australian Law Reform Commission's report on decision ­making for people with disabilities, which sets a new paradigm in this area, was virtually ignored by the attorney-general. There was no government representative at the report launch.

***
Find out more by clicking the website link.



You may also like...






11th Jul 2016
No silence please – Call to ...





5th Jul 2016
We fell in love': relationship...





3rd Jul 2016
Disability rights around the w...





1st Jul 2016
Mexico City from a wheelchair:...





30th Jun 2016
The disability benefit cuts yo...





18th Jan 2016
As learning disability institu...





15th Jan 2016
Child protection cases have ro...





15th Jan 2016
Southampton Council considers ...





14th Jan 2016
Hidden cameras, wills and cutt...





12th Jan 2016
The young mothers trapped in a...





11th Jan 2016
Social work in 2016 must be se...





10th Jan 2016
Bionic eye helps woman see for...





8th Jan 2016
Hillary Clinton's autism platf...





2nd Jan 2016
How 'pay to stay' housing ...





1st Jan 2016
Young care workers are great a...





31st Dec 2015
Last NHS hospital in England f...